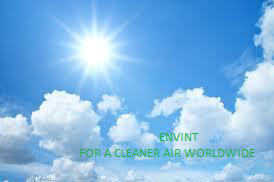 Sino-Italian PM 2.5 Monitoring Capability Construction Project for Beijing Municipal Environmental Monitoring Centre
The premises
In the year 2000. the Italian and Chinese ministries for the Environment, started the "Sino-Italian Sino- Italian Cooperation Program for Environmental Protection – SICP (Programma di Cooperazione Italia-Cina per la Protezione Ambientale) in order to, among others:
•  Carry out joint programs for the protection and conservation of natural resources, the promotion of renewable energy sources and energy efficiency
•   Promote and disseminate the economic and technological transformation to low emission development;
•  Disseminate sustainable agriculture
•   Increase and coordinate joint efforts to combat global climate change and to properly tackle its negative effects.
In the field of air pollution, the cooperation program was very significant during the 2008 Olympiads in Beijing where a number of projects were completed with the aim to evaluate and characterise air pollution in the Beijing area. Several activities, in cooperation with the Beijing Municipal Environmental Protection Bureau were carried out under the technical responsibility of Prof. Ivo Allegrini, at that time Director of the Institute for Atmospheric Pollution of the Italian National Research Council.
In 2009, Beijing Municipal Environmental Protection Bureau and the Italian Ministry for the Environment, Land and Sea signed a Memorandum on "Green Beijing Cooperation" according to which the parties agreed to cooperate on a program supporting Beijing EPB in air pollution control. Under this program, Beijing EPB selected ENVINT as consulting agency to provide technical services in the project. The agreement started on July 2011 and continued up to 2014. It included three main activities on
Legal basis and policy
Air quality assessment and evaluation system in city level
Capacity building
This project provided a series of achievements which include air pollution control system in Italy and EU, the regulatory framework and suggestions to Beijing air pollution control legislation. In addition, the contracts provided support to Beijing air pollution monitoring and assessment though presentations on technical aspects of monitoring and o how EU is expected to improve air pollution in European cities. The cooperation mechanisms were found very effective and the project considered to be the starting point for future analogous initiatives.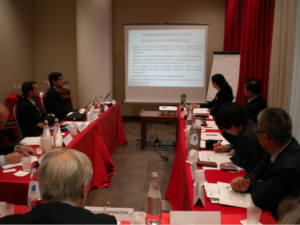 A training session in Milan for EPB officials in July 2013 
The 2015 agreement
The year 2015 marked a significant opportunity for the revival of a bilateral partnership with China. This was oriented to cooperation in the field of environmental policy, research, technological development and industrial cooperation. The goal is to promote a model of sustainable development that provides new economic opportunities in favor of Italian and Chinese companies in the context of development plans and priorities set by the two governments.
According to this general framework, in August 2015, the Directorate for Sustainable Development, Environmental Damage, European Union and International Affairs of the Italian Ministry for the Environment Land and Sea, signed an Implementing Arrangement with the Beijing Municipal Protection Bureau in order to assist the Municipality of Beijing in the implementation of Beijing Clean Air Action Plan 2013-2017, with particular attention to the air pollution control campaign in Jing-Jin-Ji (Beijing-Tianjin-Hebei) region. According to this general objective the Signatories arrange to develop a project, addressed to enhance the capabilities of Beijing EPB on air quality management, that is "Sino-Italian PM2,5 Monitoring Capability Construction Project for Beijing Municipal Environmental Monitoring Centre"
The major goal of the agreement was to develop the capacity for air quality monitoring and pollution control for fine particles (PM2.5), which is known to be a critical issue for Beijing and its environment. In addition, a second important target was identified in the Fostering commercial cooperation among Italian and Chinese enterprises and institutions.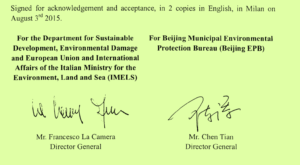 Francesco La Camera (IMELS) and Chen Tian (EPB) signed the 2015
Implementing Arrangement on Technical Cooperation On Particulate Matter Monitoring
The PM2.5 project
The agreement included two main activities:
•  Technical assistance by providing consulting services and training for Beijing technicians, in the field of: data-monitoring and assessment, source apportionment,     effectiveness of the control measures, environmental health effects. Also, testing of Italian instruments to assess their suitability in Beijing's monitoring network was included.
•   Procurement of instruments for improving Beijing's air quality monitoring System
As a part of the agreement, it was decided that Beijing EPB will select through Chinese procedures the Italian technical partner able to guarantee a productive and effective expertise, as well as identify qualified suppliers of the instruments for test use. Procurement of instruments for normal application was agreed to follow a bidding process, according to Beijing's funding rules.
The agreement officially started the procedures for the development of the project:
Sino-Italian PM2.5 Monitoring Capability Construction Project for
Beijing Municipal Environmental Monitoring Centre
On August 2016 China International Tendering Co.,Ltd, Beijing, invited bids from eligible suppliers home and abroad for the supply of the goods and/or service identified and agreed in the Project by way of International Competitive Bidding. The ceremony for bid opening was carried out on Sept. 22nd in Beijing and the tender awarded on Oct 25th 2016 to ENVINT srl.
Two contracts were then prepared between ENVINT and Beijing Municipal Environmental Monitoring Centre:
Technical Services Contract of Sino-Italian PM 2.5 Monitoring Capability Construction Project for Beijing Municipal Environmental Monitoring Centre
Goods Contract of Sino-Italian PM 2.5 Monitoring Capability Construction Project for Beijing Municipal Environmental Monitoring Centre

Bid opening Ceremony on Sept. 2016 in Beijing
The contracts were signed by both parties on Jan 25th, 2017. This is the date for the beginning of the projects activities that are expected to continue for 24 months up to Jan 2019.